Okasha: Rate of Depression in Egypt the Same as Around the World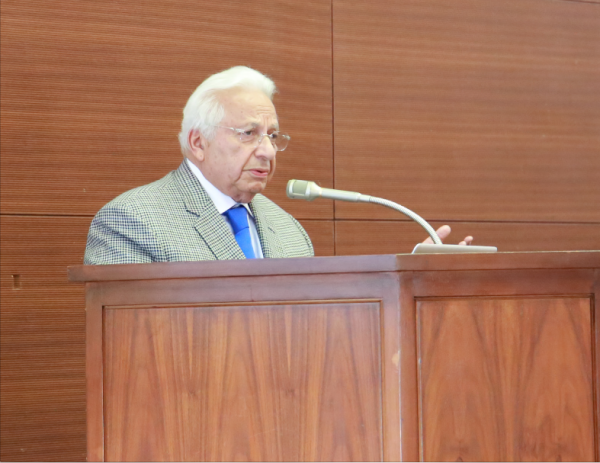 By: Yasmine Nabil and Maureen Guirguis
@Yasmin_Nabil @MaureenGuirguis
Leading Egyptian psychiatrist and professor of psychiatry at Ain Shams University Dr. Ahmed Okasha has authored and contributed to 47 books on various mental disorders.
In 1983, he established a Psychiatric Health Resort where a number of mental conditions are treated.
Okasha was also one of the founders of the Ain Shams Institute of Psychiatry and remains an active member in psychiatric circles.
He became the first Arab president of the World Psychiatric Association (WPA), having served a three-year term from 2002-2005, and in 2013 was awarded the Merit Medal of Science and Art.
The Caravan interviewed him on the sidelines of his AUC lecture The Science of Well Being.
What prompted you to pursue a career in psychiatry nearly 60 years ago?
After I came back from my studies in Britain, I discovered a newfound purpose in eliminating the stigma surrounding both patients and psychiatric treatment itself.
Mentally ill patients tend to suffer in silence much more than in physical pain. However, the perception of psychiatrists is often also degrading.
This is also because the media portrays the mentally ill patient as a crazy person, although that isn't a medically correct term.
And so, I felt this responsibility in erasing this sort of misconception. I realized the extent of this misrepresentation when I came back to Egypt; both patients and psychiatrists are portrayed as crazy especially in movies like those of [1940s screen legend] Ismail Yassin.
What do you believe are the reasons behind this stigma?
Until 1952, there weren't any established cures for mental disorders anywhere in the world.
Anyone that was perceived to be such was just thrown into a hospital until they died, and since then there has been a barrier between the patient and society at large.
Around 89 percent of individuals with mental illnesses aren't treated in hospitals.
This is why our mission is to give more attention to public hospitals and clinics, in hopes of saving more patients.
How has psychiatric treatment changed throughout recent years in Egypt?
There has been a positive development in Egypt so far. For example, in the past when I used to go to the local club and find one of my patients, I would pretend as if I didn't know them to avoid embarrassing them.
Now, however, ministers and government officials I treat are the ones that come up to me. Even movie stars go up on TV now and talk about their experiences with therapy and treatment.
Practically all TV channels now have one therapist or another whereas before they wouldn't have any.
I can even recall recent movies such as El-Modmen (The Addict), starring Ahmed Zaky or Asef 'al Ez'ah (Sorry for the Disturbance) that portrayed their scenes in favor of the mentally ill patient.
Do you think the current political situation in Egypt has had an impact on mental health?
Depression among Egyptians, for example, hasn't necessarily increased and any claim by the media to the contrary is incorrect.
The rate of depression in Egypt is actually similar to that in any other country in the world.
But recent events after the January 25 Uprising have indeed led to the decline of public morale among Egyptians because they expected more than what the country could provide them, and were disappointed in the end. That's why there's that sense.
How do you explain Egypt's decline on the World Happiness Report?
The World Happiness Report is assessed based on income. But in Egypt, overpopulation has led to a decrease in the opportunities for education and access to health facilities.
This contributes to the decline of personal satisfaction. This invariably has an outcome on the income generated, and so it makes sense that we've fallen.
There actually aren't any Arab countries in the top 10 on that list. It's the countries with smaller populations, such as the United Arab Emirates and Libya, and consequently higher income per capita, that are above us. I don't really consider the report to be scientifically credible.
When should we, as students, resort to seeking professional mental help?
There are two scenarios in which you should do so. First, is when an individual finds themselves unable to enjoy the things in life they once did, such as music or the theater.
The second is when somebody finds themselves incapable of performing their daily function or carrying out their job, whereas people with diabetes or cancer can usually still do so.
The World Health Organization has recognized the impact of mental illnesses in this their day-to-day lives.