AUCians Engage in Dahab Resort Clean-Up
Environmentalists say Egyptian attitudes need to change
The lack of proper mechanisms to reuse and recycle plastics and other types of garbage has become a serious issue for the environment as well as the economy in the Sinai resort town of Dahab.
The current solution by the authorities to collect garbage and throw it in the desert has failed as piles of unprocessed garbage find their way with the help of the wind, to the shores of the Canyon – a 10km stretch of shoreline straddled between a range of mountains.
This ends up causing irreversible damage to the marine life across the shoreline.
With the collaboration of the Fantasea Divers group in Dahab and an AUC student initiative – and the support of many more interested parties in Dahab – a number of participants cleaned up the beach and shoreline on January 16.
The salvage event included the entire class of Psychology of Sustainable Behavior (PSYC 2099) lead by Professor Kate Ellis as well as several volunteers who took interest in the event in an attempt to clean up one of the most beautiful touristic locations.
The cleanup started at 10am with the class divided into two groups; one group worked from the Bluehole – a diving location just north of Dahab.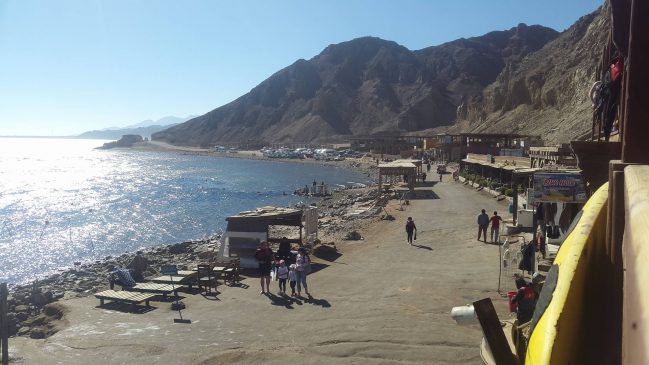 The other group start from the Canyon; the two would meet in the middle.
After about three hours, the 50 participants had collected around 37 large bags of garbage.
Tarik A. Fatah, one of the organizers of this event who had a major role in communicating with the City Council to provide the necessary equipment (plastic bags, gloves) to facilitate that the cleanup process, also affirmed that the problem is not in the garbage but rather social behavior.
"Inside our houses its very clean you can sleep on the floor. But outside our houses, we don't care how dirty it gets," said Fatah.