AUC Still in Shock Over Tragic Loss of Ahmed Abdelaziz
The AUC community is still mourning the tragic loss of Mechanical Engineering junior Ahmed Abdel Aziz, who tragically passed away at the Air Force Hospital on February 20 after being found "unresponsive" in the AUC swimming pool the day before.
"All of AUC is deeply saddened by this tragic loss. As a parent, my heart goes out to Ahmed's parents, family and friends," Noel Knille, associate vice president for campus services, told The Caravan.
"He was really pure, he was one of the few people who, whenever I wanted to talk to someone and there is no one or it was not easy to talk about, I could easily call him, go out and talk about it," said Kareem ElHosseni, a close friend of Abdel Aziz's and Economics Senior at AUC.
"We always found comfort in being totally who we are when we were together," added ElHosseni.
Abdel Aziz's friends all remarked that he was an exceptionally kind character.
"Whenever I asked him for anything, he would do it even if it meant he had to go out of his way," ElHosseni added.
One of Abdel-Aziz's Teaching Assistants, Engineer Aya Korayeb, told The Caravan about how Abdel-Aziz was one of the best students she had met.
"He was someone who was very keen on everything such as his lab reports and grades…The minute I read the post that he had passed away, the first thing that came to mind is that he was one of the students who was always very polite," said Korayeb.
The AUC community held a prayer service for Abdel Aziz on February 21. It was attended by members of the administration, including Executive Vice President for Administration and Finance Brian MacDougall and Provost Ehab Abdelrahman.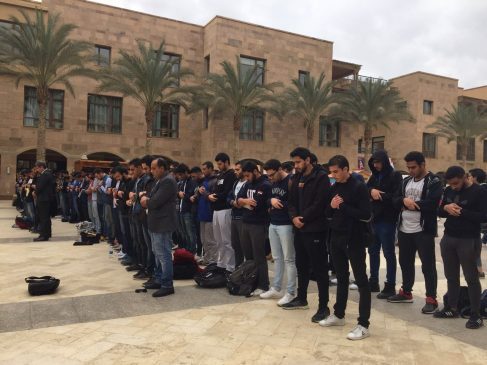 President Francis Ricciardione, who was not in Egypt at the time, sent a message of condolences.
"I count myself blessed to have met Ahmed, as an enthusiastic force in the Robotics Club, whose achievements we joined in celebrating only a few months ago. Though I had the pleasure of knowing him only too briefly, he touched my own life as he did so many others with his warm smile, big heart and boundless dreams," his email read.
Mohamed Gamal, former vice president of operations of the Robotics Club, told The Caravan that Abdel Aziz was always remembered for his energy and kindness.
Although Abdel Aziz had left the club this semester, he was working with Gamal on organizing the ROV Robotics Competition.
Gamal said that he had met Abdel Aziz two years ago when they were working on the same project together.
"He was a very kind person, he never upset anyone, he knew so many people, he had ethics, he was academically intelligent and he would always try to correct what he found wrong," said Gamal.
Gamal told The Caravan of the time when Abdel Aziz spontaneously decided to gather his friends and take them on a trip to Kattameya.
"We took a walk on the mountain, went to a restaurant Abdel Aziz liked and he wanted to pay for everything," said Gamal.
Abdel Aziz is also remembered by his professors for being a dedicated and hardworking student.
"He was very kind, excellent, well behaved and decent. I liked him a lot. His name was always first on the attendance list. I'll leave his name there and I told his friends I would not remove it. I will leave it until the end of the semester," Associate Professor of Mechanical Engineering, Mohamed Fawzy Aly told The Caravan.
Aly added that Abdel Aziz was one of the intelligent and curious students in his class.
"He had a very good engineering sense and we used to talk a lot during the lectures. He is very active. He is not the shy person who sits without talking. He asks a lot of questions. I used to tease him about the questions and give him funny answers so he would remember them," he said.
MacDougall is currently leading a full investigation of the incident and has closed the pool until further notice.
While MacDougall refused to comment on the incident until the investigation is complete, The Caravan spoke to Kareem ElMantawy, an eyewitness and mechanical engineering alumni, who happened to be at the pool at the time.
"The boy dove and didn't come back up," ElMantawy told The Caravan.
He said that he was with two of his friends in the pool when they first noticed that Abdel Aziz had drowned.
They instantly called for the lifeguard, who was present at the pool with a first aid kit ready and what ElMantawy assumed to be an electric shock machine.
"The lifeguard responded instantly, took Abdel Aziz out of the pool and began CPR."
The clinic was called and the nurse came in less than two minutes to perform CPR, ElMantawy added.
The clinic also sent an ambulance club car and a doctor quickly within a few minutes. The entire clinic staff, several members of the security personnel and officials from the University, including Knille and Dean of Students George Marquis, were also present as efforts to revive Abdel Aziz were made.
"I stayed until 11pm with his father [in the hospital] and other friends began to come as well. We were trying to understand what happened and Ahmed's situation. At first, his heart had stopped and then it had started again…They did an x-ray on his brain, there was no brain activity and they discovered that there was water inside the brain," said Gamal.
The Caravan has learned that the ongoing investigation is looking at the clinic's response time and how fast the lifeguard performed CPR.
Although the investigation is not yet complete, last week, the daily newspaper Youm7 reported that  the lifeguard, referred to as the swimming coach in the newspaper, has been sentenced to six months in prison for negligence.
The Caravan reached out to a number of AUC officials, who confirmed the Youm7 report.
ElMantawy added that Abdel Aziz's intention was to dive and practice staying underwater.
"I don't know if he was practicing diving or not, but what I understood from his friends and family is that he likes to dive underwater a lot."
As a sign of respect, some student clubs, like Glow and Cairo International Model of the Arab League (CIMAL), have suspended all campus operations for a week.
The Caravan has also reached out to the Director of the Athletics Office Louise Bertini who was not available for comment.
The investigation is expected to be completed in two weeks.