Separation Anxiety: International Students Face Challenges Transitioning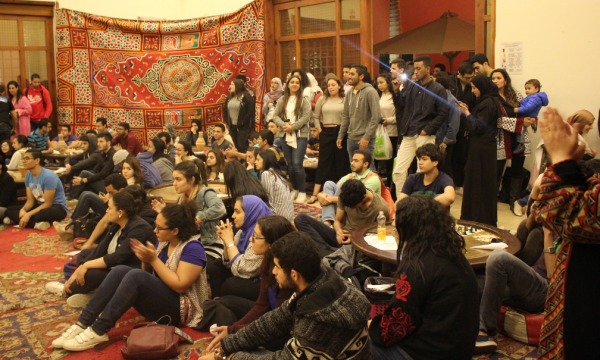 By: Doaa Abdelghany
@Dootsie5
Students who live away from their families may face difficulties accommodating to their new surroundings and responsibilities, often to the detriment of their mental health, according to a 2010 study conducted by the International Journal of Intercultural Relations.
Some, however, travel much farther away than others.
According to the AUC 2016-2017 Factbook, 99 out of the 430 students living on the New Cairo campus residence are international students.
A report provided by the Office of Student Support for the years 2013- 14 says, "International students represented 5.5 percent [out of 345 cases that year], which reflects the marked decrease in international students at AUC, which would have normally been around 25 percent of counseling cases [that visit the counselling center]."
"Sometimes I used to feel that coming to AUC was the wrong decision and that I should have stayed home and close to my family," said N.M, an international student who asked to remain anonymous.
N.M. first hesitated about going to the University's counseling center due to a negative experience she had at her previous university.
"I decided to go and it made a difference. The medication that I was prescribed also helped out," she said.
"I had serious depression and attempted suicide once by overdosing on pills."
The Office of Residential Life has taken several measures in anticipation of potential challenges faced by international students, such as N.M.
The most notable of these has been the resident advisors (RAs) program.
"One of the RAs knew about it and she took me to the clinic to make sure that everything was okay. When the clinic knows of a student who has attempted suicide, they send a list of names to the Residential Life Office, so that they follow up with them," she added.
Every RA is assigned a unit where they are responsible for the wellbeing and safety of the students living there.
All RAs are expected to undergo training. One of the main aspects the Office focuses on is the possibility of encountering students with psychological problems and how they are expected to provide support.
"As RAs, we are there to offer guidance and to talk to the resident if they face any problems. If the case is severe, we tend to guide them to the counseling center and we show them that it is okay to go to a psychologist to try to remove the stigma around it," said Dalia Abushady, an RA and a political science and integrated marketing communication (IMC) graduating senior.
For M.H. it was the ravages of war that pushed him towards depression.
"The most painful thing was that you are away and you have no way stop this. It changed me and made me feel that I am becoming what is less of a human. It was a nightmare," communication and media arts (CMA) junior, M.H. told The Caravan. 
"Every day, I wake up in the morning check my phone I find that someone that I know was killed. It happened one time after another until it got to a point where I don't have friends back home anymore," he said.
M.H. described that the worst of it was the feeling of utter abandonment due to the loss of his home.
"I thought about ending my life a very long time ago, but I always have my mother on my mind and I remember how much of a fighter she was. After my father passed away, she has become the only person I looked up to," he added.
According to the World Health Organization (WHO), it is estimated that 4.4 percent, over 300 million, of the world's population suffers from depression.
The International Students Peer Leaders program also aims at helping international students settle into the AUC campus and make their experience in Egypt a pleasant one.
"We work as peer leaders for international students and we help facilitate their transition to Egypt and to AUC as a campus," said Abdelaziz Mahmoud, a petroleum engineering senior who has been an international peer leader for a year and a half.
Mahmoud added that a lot of international students tend to suffer from homesickness at the beginning of their stay in Egypt, with their parents constantly worrying about them.
However, this tends to fade away once they start traveling on their own.