Joint Effort by Heya and CIMAL Brings Egypt's Leading Women to the Stage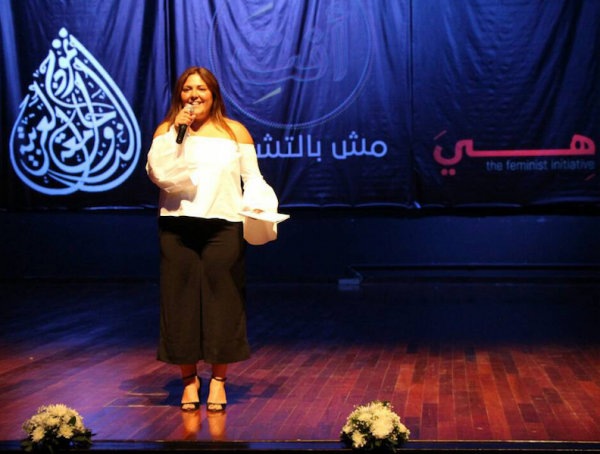 By: Hussein El Moataz
@Se7s147
Mesh Bel Tashkeel (Without Arabic Diacritics), was the title of a talk series held in collaboration between Heya: The Feminist Initiative and Cairo International Model Arab League (CIMAL) featuring leading contemporary Egyptian women.
"In order to target a diverse audience across campus we decided to choose speakers from different sectors," Heya's Vice President Yomna Mohie told The Caravan.
Key speakers included "Princess of the Revolution" Heba El Sewedy, founder of the "Ahl Masr" charity foundation.
Dalia Ibrahim, CEO of the "Nahdet Masr" company, renowned journalist and former counsellor for women's affairs Sekina Fouad, and Nike's first hijabi model Manal Rostom were also among the speakers of the campaign.
"We wanted the talk to be as diversified as we could," CIMAL's Secretary-General Farah told The Caravan.
On Female Empowerment
The underlying theme of this series is that women held the potential to empower themselves and others irrespective of their communities', society's or country's attitudes towards them.
For example, El-Sewedy showed how a businesswoman can add to her community by establishing a charity – her own foundation is a testament to the changes this can make.
"We were able to prove our presence and existence in less than four years," El-Sewedy said.
"Our role is to give and serve our community," she added.
Sekina Fouad, a journalist in Al-Ahram demonstrated the role women can play in extracting the truth and raising key issues in society.
As the Advisor on Women's Affairs, she proved that women can indeed effect change on a national level.
For Dalia Ibrahim, her driving force was the continued push for progress.
Ibrahim leads one of Egypt's largest companies and was responsible for launching the first Arabic version of National Geographic.
The series also struck close to home with AUC alumna Radwa Hamed, former Secretary-General of Cairo International Model United Nations (CIMUN) and Human Resources Chairperson of the Student Union (SU).
Hamed has used both to extend her humanitarian interests across Egypt.
"One of the projects that I felt blessed after doing was when we went to build a local library for children in Aswan."
In the Face of Adversity 
"The main aim of the talk was to inspire people; most of them were about how these women broke social barriers and overcame all the challenges that stood between them and their goals," Kaddah said.
Fouad's coverage, for example, introduced a new voice into issues that have historically been dominated by men, such as the place of women in constitutional reform.
These social attitudes against women begin at the lowest levels of society.
Menna El-Keiy, a young writer, discussed how these should never preclude a woman from pursuing her dream.
She defied these gendered structures by writing a 'sha'by' song – a field often perceived to belong exclusively to men.
Manal Rostom was another example of a woman who broke societal conventions and taboos by proving that she can remain committed to sports locally and globally while donning the veil.
Her dedication left a footprint across the world when Nike elected her as their first veiled brand ambassador and model.
And this advocacy found its way to the streets with Mariam El-Gebaly, one of the participants in the "Ballerinas of Cairo" campaign.
By dancing openly in the streets, El-Gebaly and her cohort attempted to reclaim the role of women in the public space.
El-Sewedy also confronted pressures against her involvement, as a woman from a wealthy family, in the revolution.
She nevertheless felt that it was essential to contribute with the resources at her disposal, and has since then dedicated her foundation to the medical and psychological treatment of burn victims.
The January 25 uprisings were commonly seen by the speakers as marking a new era for the role of women in the public sphere and the struggle for social change.
Inter-Club Collaboration 
The event is noted for being among the first and largest examples of inter-club collaboration on campus.
Kaddah said that it was not new for the organization to focus on women, having introduced a women's council in their conference last year.
"We are an academic organization that addresses political, economic and social issues. And women empowerment and societal chains are definitely part of that."